Who Creates New Bitcoin?
Key Highlights
6.25 new bitcoin are currently released roughly every ten minutes.
New bitcoin are released when a miner produces a new block.
The finite supply of Bitcoin will prevent new bitcoins from being released after the last bitcoin has been mined
Bitcoin Created Through Mining
New bitcoin are released through mining, which is the process of confirming Bitcoin transactions and securing the entire historical record of transactions known as the blockchain. When a miner finds a new block, they are rewarded 6.25 BTC. Every 210,000 blocks, the subsidy for each new block falls by half.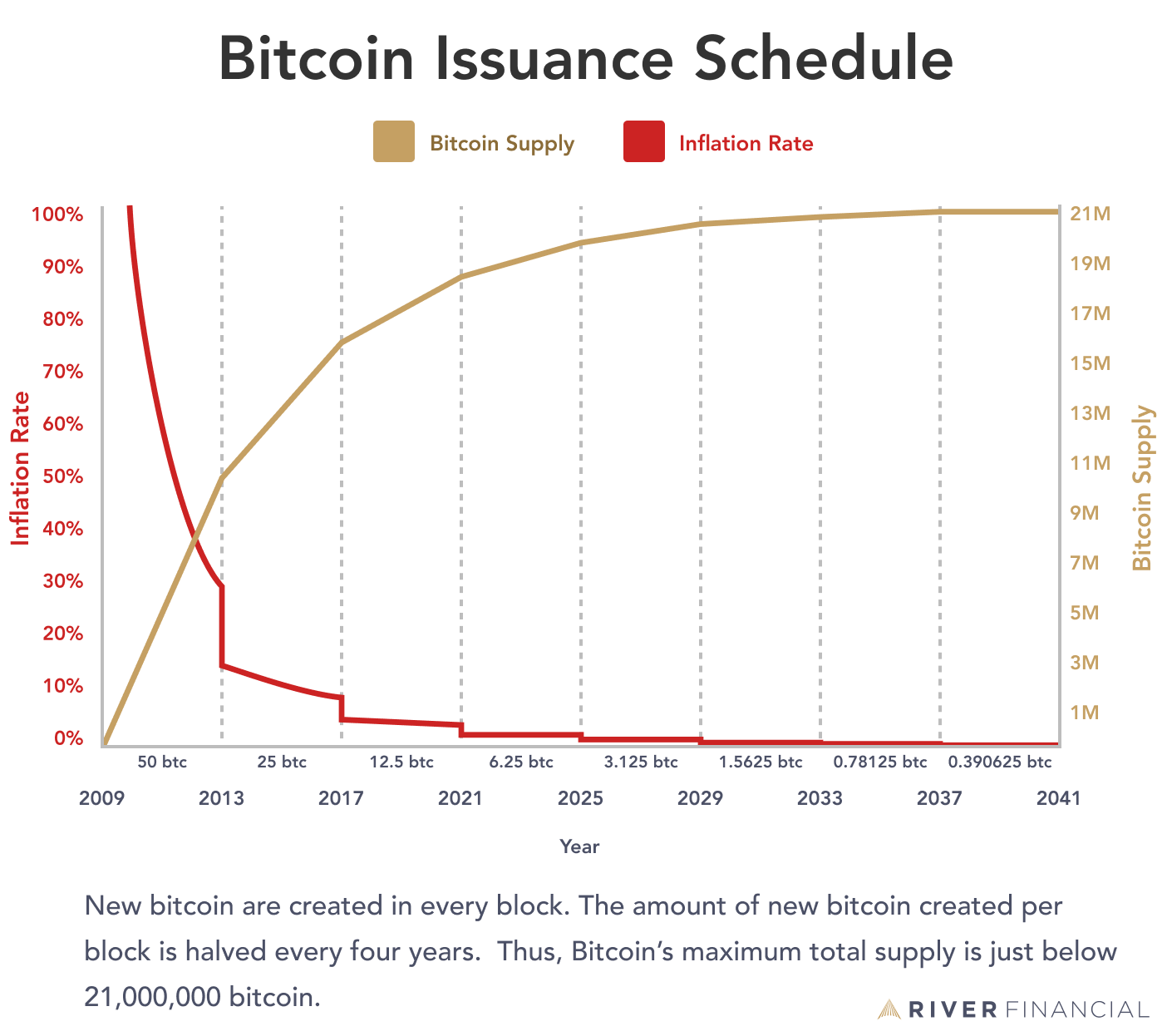 Reducing the subsidy per block keeps the supply of new bitcoin at a constantly decreasing rate, and allows the current supply of bitcoin to always be known.
➤ Learn more about Bitcoin mining.
Bitcoin has a finite supply just below 21 million bitcoin. When the last bitcoin has been mined, the production of new bitcoin will end. Unless an overwhelming majority of the miners and node operators can convene to override the supply constraint, which is highly unlikely given the number of network participants required to change the rules in the software, no new bitcoin will be released.
➤ Learn more about what will happen after all bitcoin are mined.
Bitcoin Distribution
Miners receive new bitcoin as a reward for their efforts. However, almost all miners must pay their operating costs—new equipment, employee salaries, and most significantly, energy costs—in the local fiat currency. This forces most miners to immediately liquidate some if not all of their newly minted bitcoin. These new coins are sold on exchanges or OTC desks. Miners are thus a fairly consistent source of sell pressure on the network.
➤ Learn more about Bitcoin mining profitability
As Bitcoin's inflation rate continues to be cut in half every four years, the impact of this miner-driven sell pressure will presumably decline as well. Additionally, if Bitcoin gains adoption within the energy sector, miners could begin paying some of their operating costs in Bitcoin.
Mine the World's Scarcest Asset With River
If you're looking for Bitcoin Mining exposure, but feel that you lack the technical expertise to run and maintain your ASIC machines, you could consider our Hosted Mining offering.
You can purchase miners directly through the River app, or ship us the machines you already own to be hosted in our facilities. River mining clients receive daily mining rewards payouts, a sophisticated monitoring system for their ASICs, subaccount functionality for groups or businesses, and detailed account statements on a regular basis.
Plus, you'll gain access to additional features like our best-in-class Bitcoin brokerage, fully-reserved cold storage vault, and automated withdrawals. Due the size of our mining operations, we are able to offer reduced mining pool fees, hardware, and hosting costs, as well as skilled on-site technicians.
Please feel free to reach out to our Mining Sales Team to learn more about the offering and see if it's the right fit for you!
Build your Bitcoin wealth with River
No-fee recurring buys
Bitcoin mining
Phone support
---
---