Bitcoin Mining Simplified
Purchase miners and receive daily Bitcoin deposits. An all-in-one solution where River manages the end-to-end mining process for you.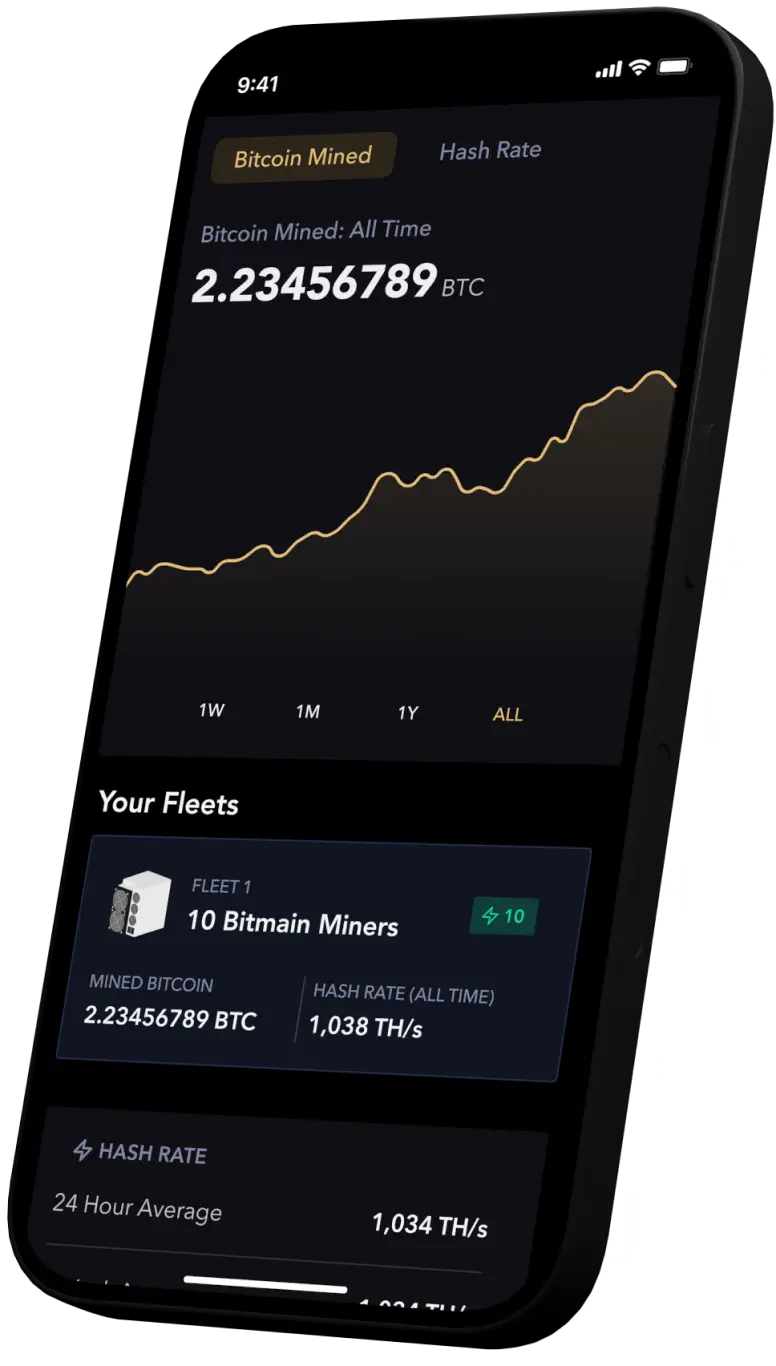 Purchase Your Miners
Buy your miners through our sales team or directly through your River account or entity.
Your Miners Go Live
Your miners will go live at the hosting facility. We handle the hosting, servicing, and maintenance of your miners.
You Earn Bitcoin
Once live, your miners will start earning Bitcoin directly to your River account and contribute to the Bitcoin Network.
Offering the best in hosted mining
Your search for quality and efficiency ends here. Get started below in just a few steps.
Mining Bitcoin has never been easier
Mining is only a click away with River. Purchase machines of your own and manage your miners from our iOS app and web platform.
All-in-one Mining
With River, you can start with one miner and scale your fleet at your own pace. All miners can be managed from your River login.
Buy Miners With an Entity
River supports buying Bitcoin miners in your IRA LLC, business account, family office, or personal account.
Track Performance
View your hourly, weekly, and monthly miner performance all in the River app. Your mining proceeds and cost basis data are all tracked for you in your River account statements.
Dedicated to quality and service
Bitcoin can be intimidating. Our experienced Client Services team is waiting to help you get started building your Bitcoin wealth.
"I mine with three other companies, but I have been super impressed with River. Their communication, honesty, assessment and ultimately delivering on their promises is of utmost importance to me. Whenever I have an issue, question, or concern, they are right there and are eager to help and assist. I'm a small miner, yet they treat me with respect and attention that I appreciate immensely."
Brad W.,
River Mining Client
"I've been mining Bitcoin through River for the past six months. I loved how the team helped me evaluate the various mining machines and think through what I was really trying to accomplish. The app is great as well, really user-friendly. I check in daily to see how my machines are performing and much Bitcoin I have earned."
Greg H.,
River Mining Client
Frequently Asked Questions
River Mining is a comprehensive way to mine Bitcoin. River procures, hosts, and manages your bitcoin miners, giving you access to institutional-grade mining operations and economics.
Miner hardware can be paid via bank transfer (ACH) or your cash balance on the River iOS app or website. For questions on payments, the River team is here to help.
All of River's hosting facilities are located in the United States. River partners with facilities that primarily utilize renewable and low carbon emission energy sources.
Hosting is charged via bank transfer (ACH) on a monthly basis to cover electricity and hosting services. Easily set up autopay in your River account on our iOS app or website.
Individuals who reside in one of our supported states with a River account are eligible to purchase miners. To mine with an entity or institutional account contact our team.
Repair costs vary depending on the service needed. To minimize downtime, River and our hosting partners facilitate any necessary machine repairs.
Ready to mine Bitcoin?
Purchase a miner today or speak with the River Team to learn more