What Can You Buy With Bitcoin?
What Can You Buy With Bitcoin?
Key Highlights
Modern vendor discovery tools make it easier than ever to locate businesses that accept bitcoin as payment for goods and services.
Artisanal producers accepting bitcoin and the global growth of Bitcoin Tourism destinations provides a variety of options to spend bitcoin.
Transacting with bitcoin allows vendors and customers to avoid traditional payment processors, including their fees, chargebacks, and censorship.
Laszlo Hanyecz's quest to buy pizza with Bitcoin in May 2010 was the first instance of anyone successfully spending bitcoin for goods and services in the physical world. In the years since "10k BTC Pizza Day", vendors have begun to understand that Bitcoin is both a savings vehicle and a tool to potentially expand their customer base.
Today, you can use your bitcoin to buy fresh meat and produce, artisanal lifestyle products, online goods and services, travel experiences, gift cards, and more from thousands of vendors! Below we highlight some of them and help you discover local places to spend bitcoin, too.
What Vendors Near Me Accept Bitcoin?
Visualization tools like coinmap.org on the web and Oshi on mobile provide a localized directory of merchants willing to accept bitcoin for goods and services. The older of the two, Coinmap, covers the entire globe and will be more useful for vendor discovery outside of the United States.
Oshi, on the other hand, incentivizes customer loyalty by offering rewards via "bitcoin back," or vendor-specific discounts. Based in Austin, Texas, Oshi has over 100 vendor options throughout the continental United States, with more being added every day.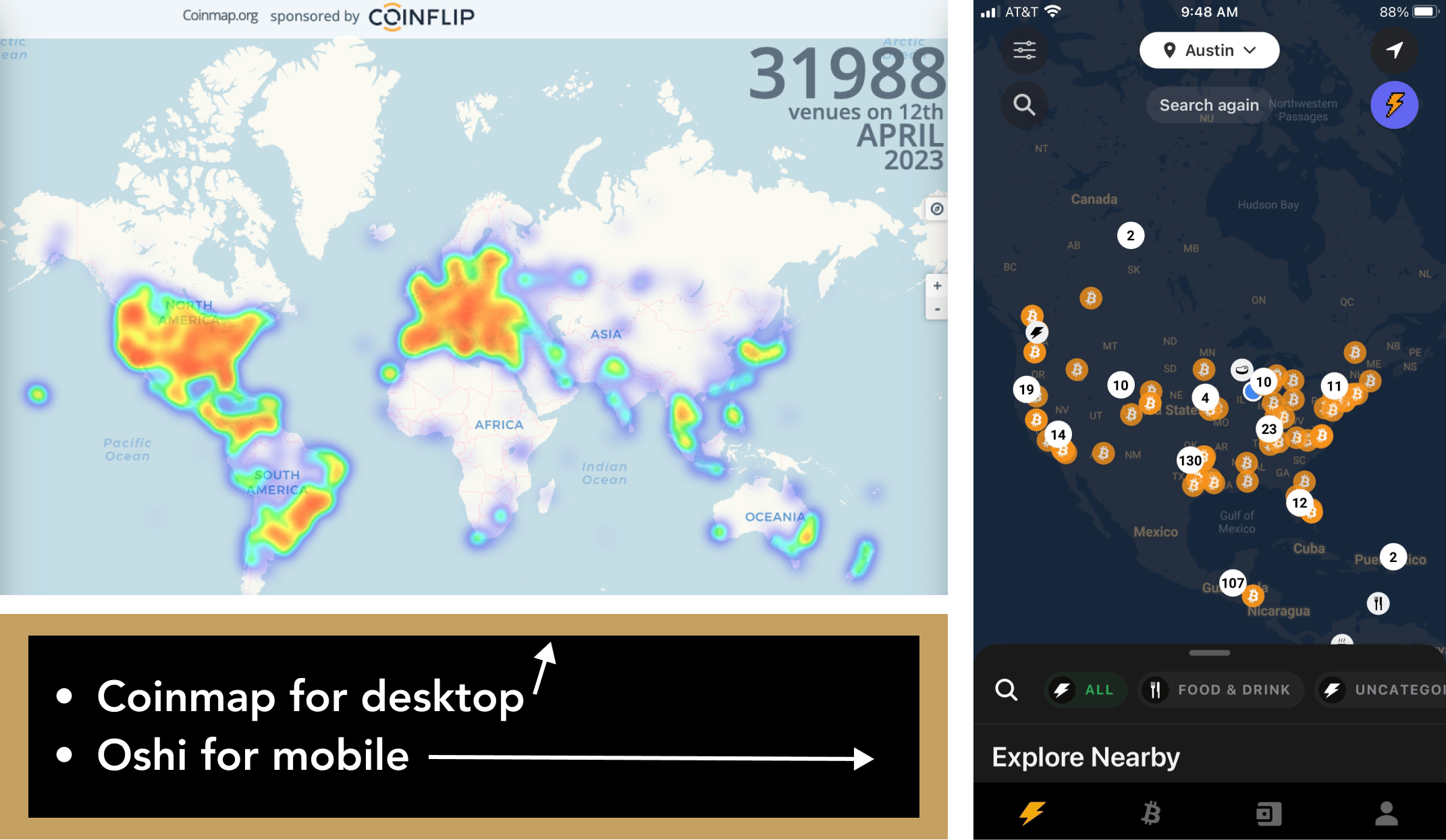 Before reading any further, try one of the tools above for yourself – see if you can find any merchants accepting bitcoin in your area and consider supporting them!
Why Should I Spend My Bitcoin?
There are some people who prefer not to spend their bitcoin at all, this is very common in highly developed countries. These people would rather buy and hold in anticipation of increasing value over time. However, if bitcoin is to be used as a global money, we have to start somewhere.
Spending bitcoin on goods and services you actually enjoy is a powerful way to begin this process, and allows vendors to discover Bitcoin's usefulness in real time. If no one spends bitcoin, that can have a centralizing effect on the network as a whole. By using bitcoin as a medium of exchange, we increase the speed of global Bitcoin adoption.
One method to continue to grow your bitcoin stack and contribute to global adoption is to simply replace an equivalent (or greater) amount of bitcoin spent—this is called a "Spend-and-Replace" strategy. Practically, this means that if you spend $5 worth of bitcoin on a coffee, you would then purchase the equivalent nominal value of bitcoin.
Ultimately, the more people that are using the network, the more viable Bitcoin becomes for saving and payments.
Bitcoin Circular Economies
We can define Bitcoin Circular Economy as an economic system in which participants are primarily earning bitcoin, as opposed to buying it. The system is "circular" because the participants would recycle the bitcoin back into the system by paying for goods and services—in contrast to trading it for fiat currency.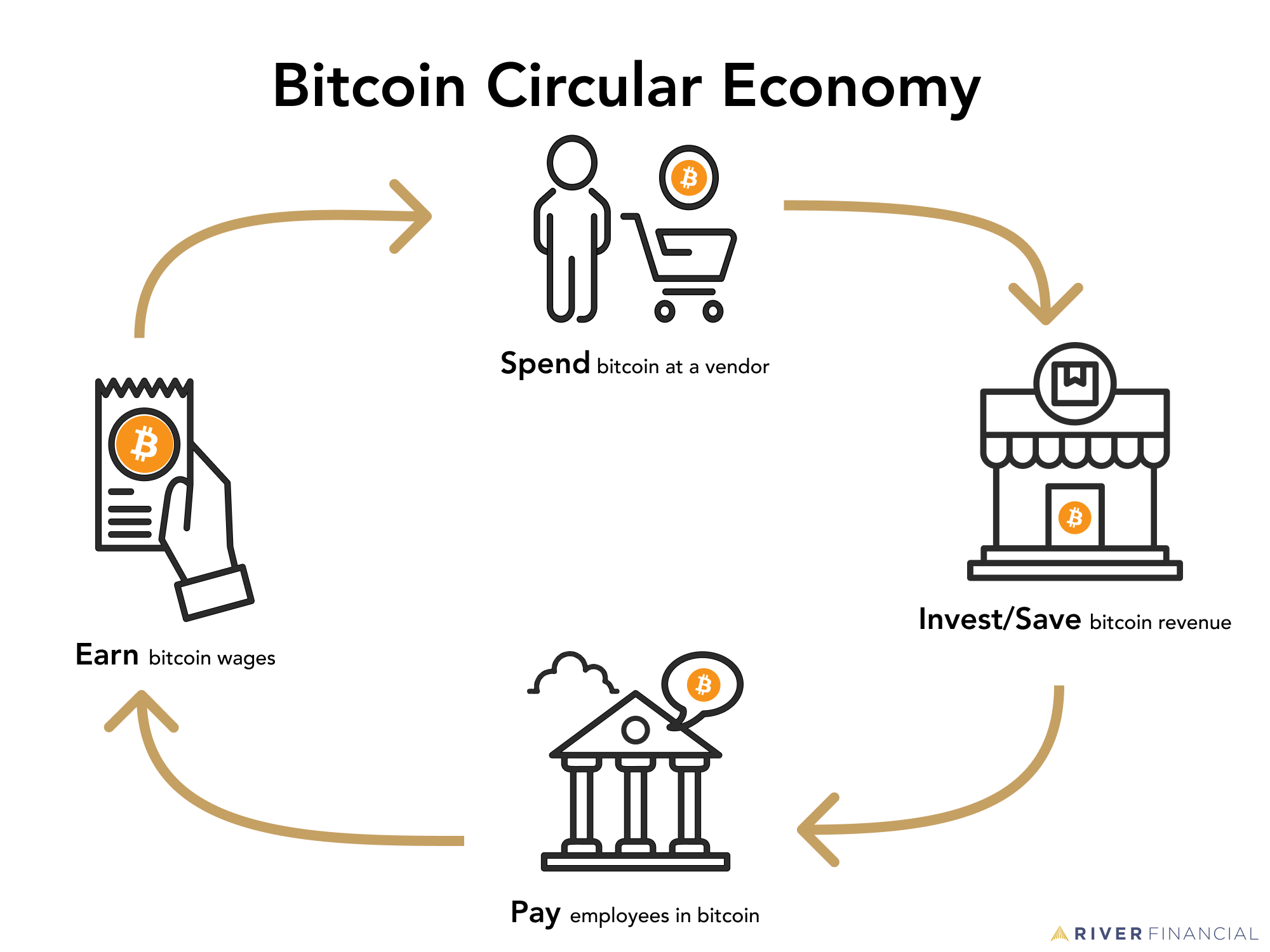 Additional participants in a BCE include bitcoin commerce enthusiasts seeking to onboard vendors, node infrastructure providers, vendor discovery tool builders, and payment processors who enable businesses to accept bitcoin for their wares.
Bitcoin can only exist as a globally accepted payment method if there is a robust network of merchants willing to accept bitcoin for payment and sufficient numbers of customers willing to spend their bitcoin on goods and services.
Where Can I Spend Bitcoin Today?
According to research compiled by Fundera, 2,352 U.S. businesses accept bitcoin as payment today; California is leading this trend with 440 participating vendors. Data from coinmap.org shows a global population of nearly 32,000 bitcoin-enabled vendors as of April 2023.
In the following sections, we will explore several categories of goods and services that you can purchase with your bitcoin today. This list is not exhaustive, as new products and services are constantly being brought to market.
Digital Goods and Services Powered By Bitcoin
As digitally-native money, Bitcoin enables seamless online transactions. One of the most established instances of this is paying VPN service providers with bitcoin: iVPN, ProtonVPN, and Mullvad VPN.
A VPN (virtual private network) can increase your online privacy and security using tunneling and encryption techniques.
If you're interested in owning your own website, providers like Namecheap have integrated bitcoin payments into their checkout process. Namecheap also offers web hosting services; other options for bitcoin-integrated web services include Hostinger, HosterBox, and more.
Gaming infrastructure platform Zebedee allows players to spend bitcoin on in-game upgrades, and earn bitcoin for playing games like Sudoku, Mahjong, and Solitaire.
Fountain, Breez, and similar apps are at the forefront of podcasting 2.0 where content consumers contribute value to creators by sending micro-payments of bitcoin. Utilizing the Lightning Network, bitcoin can be sent on a per-minute basis, or via Boostagram, which is a lump-sum payment attached to a short text message.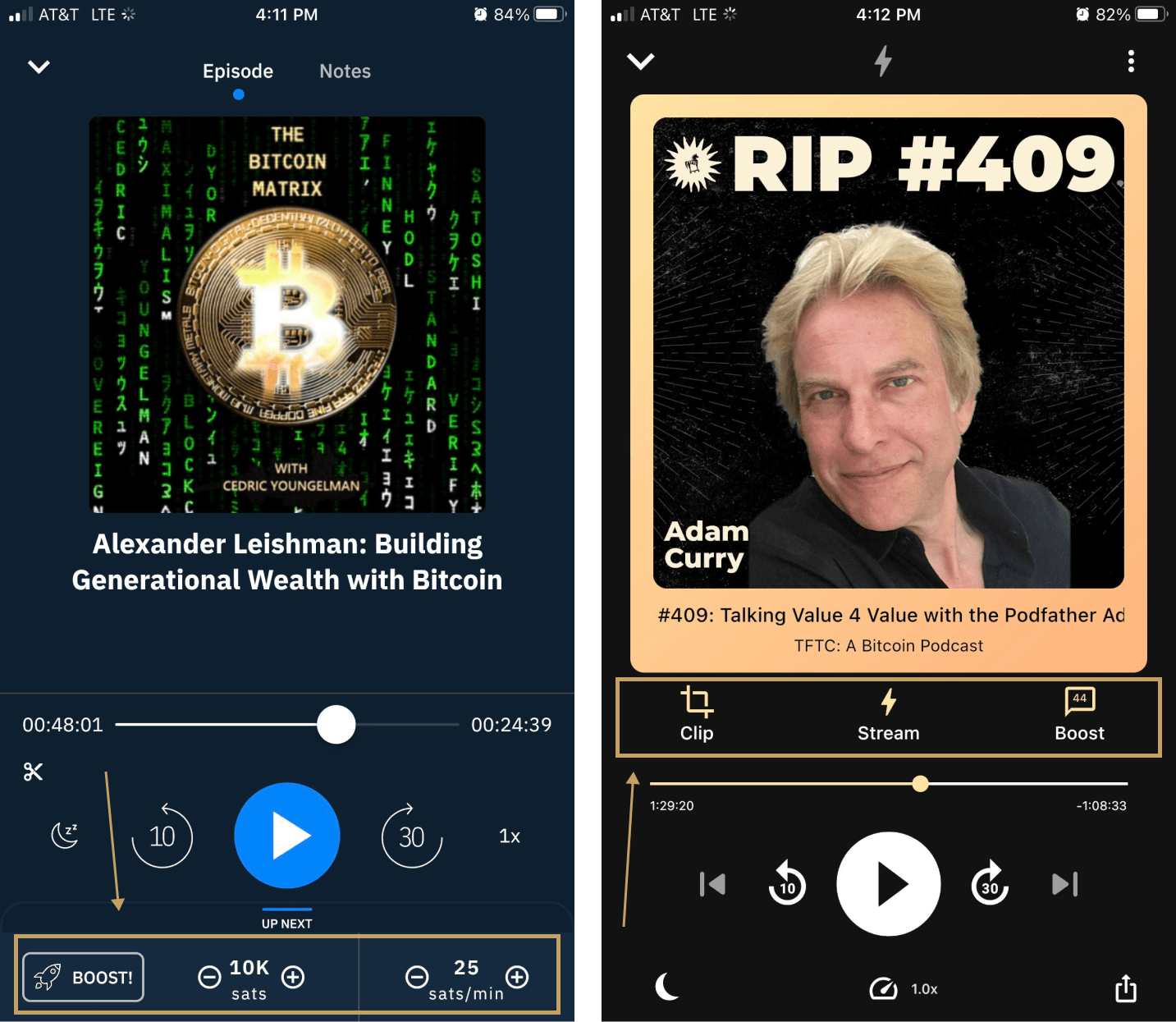 Bitcoin Tourism
Founded in 2019 as a proof-of-concept Bitcoin community, Bitcoin Beach (El Zonte, El Salvador) has opened people's minds around the world to the possibilities of Bitcoin tourism as a means to achieve circular economies. El Zonte has been known as a mecca for surf-chasers and ocean lovers and is today home to countless vendors that accept bitcoin for food, merchandise, and even haircuts.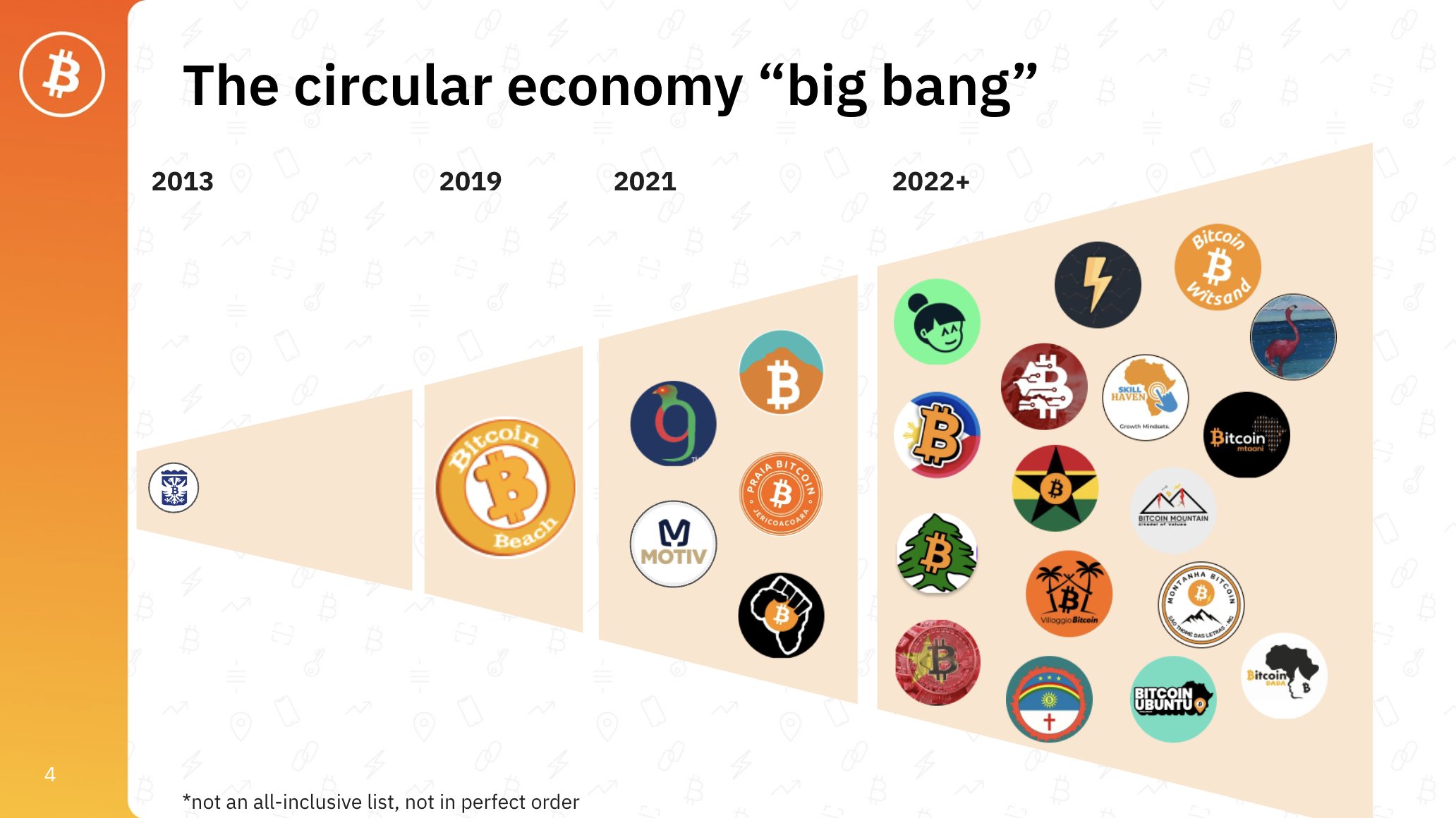 Image Source: Andrew Begin of Galoy
The success of Bitcoin Beach has inspired many other localities to enact similar strategies—driving bitcoin adoption through grassroots vendor onboarding and creating tools to streamline that process. Uvita, Costa Rica is home to Bitcoin Jungle, where visitors can enjoy the beach, jungle, nearby mountains, and lush wildlife. Bitcoin Jungle leverages a similar model as Bitcoin Beach where a single application serves as a Lightning wallet, vendor discovery map, and educational resource.
Today, Bitcoin tourists can travel to similarly oriented communities in Praia, Brazil (Bitcoin Beach Brazil); Lugano, Switzerland; Panajachel, Guatemala (Lago Bitcoin); Hanoi, Vietnam (Bitcoin Beach Vietnam); Siargo, Philippines (Cloud21siargo); Mossel Bay, South Africa (Bitcoin Ekasi); and more.
Community-based, Bitcoin circular economies are much more than a passing fad. Bitcoin Ekasi, a coastal South African surfing village, currently employs a staff of nine with 100% of their salaries paid in bitcoin. With the help of Built With Bitcoin, surf instructors, teachers, and shopkeepers were able to open an education center last year to provide additional spaces for local kids to better themselves.
Buying Gift Cards With Bitcoin
Those who prefer to have more flexibility in how they spend bitcoin can opt to purchase gift cards from their favorite retailers. This method has its advantages and disadvantages; we'll look at a few businesses that offer these kinds of products.
Gift cards are another widely used means of using bitcoin to purchase goods and services. Bitrefill, founded in 2014, has been providing users with a variety of vendor options for spending bitcoin like Amazon, Uber, DoorDash, Hotels.com, and HomeDepot, to name a few.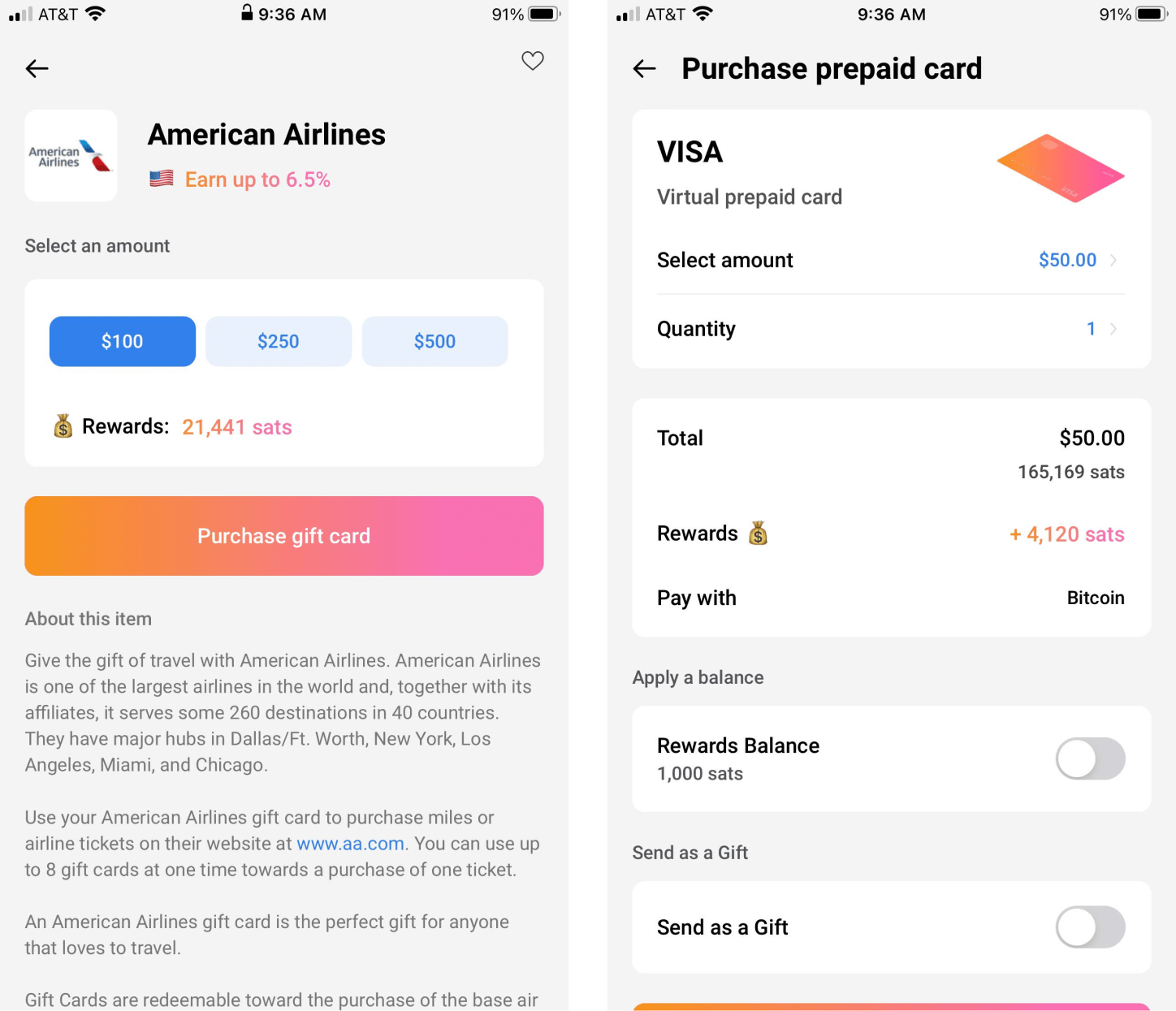 The Bitcoin Company's primary business is exchanging bitcoin for gift cards, and BTC Co also offers bitcoin-back on every purchase. Users of this app can purchase gift cards from most major retailers in the U.S. like Walmart, Cabela's, Delta Airlines, and Hulu—in addition to prepaid Visa cards.
₿-Commerce and Artisanal Products
Oshi serves not only as a vendor discovery tool but also as a bitcoin rewards and customer loyalty program manager that supports local businesses online and in-store. The ₿-Commerce platform is a funnel for customers and businesses to find each other, and their rewards program can be customized to offer discounts or bitcoin back, depending on the user's preference.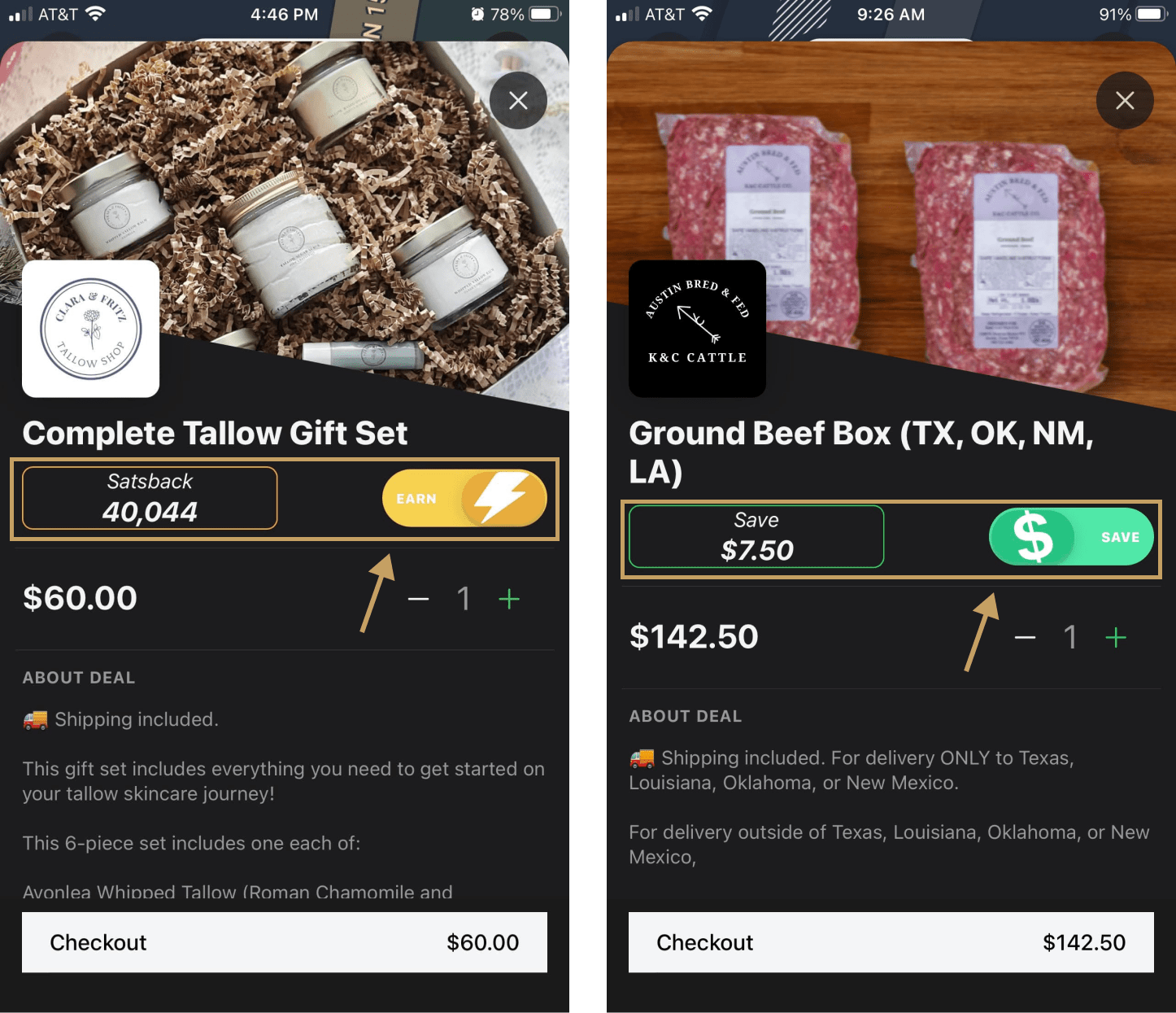 Oshi enables artisanal producers to grow their business by reaching customers (bitcoiners) that may not have found them otherwise. An example of this is Clara & Fritz, a tallow-based skincare product company run by a mother of four who hand-makes all products from her kitchen. Oshi users can also purchase hand-harvested and processed maple syrup made by an Ohio high school teacher through the app.
For consumers seeking to procure high-quality beef or connect with local farmers and ranchers, The Beef Initiative offers meat boxes for purchase and maintains a list of over 120 participating beef producers across the United States.
At its core, The Beef Initiative exemplifies the tenets of genuine value-for-value exchange: ranchers teaching consumers about regenerative agriculture, and bitcoiners educating ranchers on the importance of sound money and open networks. Any farmer, rancher, or food producer can voluntarily join—or leave—the initiative at any time.
All producers listed in the index are initially crowd-sourced, vetted for quality assurance, and then able to market their products directly to customers. Farmers and ranchers benefit from direct-to-consumer market access, and customers benefit from an in-depth understanding of where their food actually comes from.
Direct-to-Seller, Private Bitcoin Transactions
As the percentage of bitcoin ownership grows, more opportunities arise to spend bitcoin on big-ticket items like real estate, land, and luxury goods.
In this Bitcoin Magazine OpEd from May 2022, an employee of Redfin explained that according to their research, approximately one in nine first-time home buyers saved for their down payment by leveraging their bitcoin savings. However, there are certain aspects to consider before making such a transaction.
Paying With Bitcoin: What You Need to Know
The more people (and businesses) that are onboarded to Bitcoin, the more important a sound understanding of the protocol becomes. Here are some aspects of ₿-Commerce to consider for merchants and customers alike:
There may be instances where private sellers are not technologically equipped to accept bitcoin—it could be the case that they do not have any wallets set up.
Bitcoin transactions, once sent, are final; there is no way to undo a transaction. It is important that both parties understand the finality of Bitcoin transactions prior to any funds being sent.
Checkout experiences that leverage the Lightning Network achieve settlement nearly instantly, and are generally much cheaper than on-chain transactions.
Transactions made on-chain sit in a queue called a mempool for approximately 10 minutes (on average) until they are confirmed. Best practice is to wait for 2 - 6 confirmations before deeming the payment as settled, but for low-priced products, this is not necessary.
If customers are paying on-chain, they need to make sure to include a transaction fee equal to, or greater than the current estimated Bitcoin transaction fee rate (use your favorite block explorer, like mempool.space).

In the event that a customer does not include a sufficient fee, the merchant could ask that the customer broadcast a replace-by-fee "RBF" transaction; this effectively replaces the first transaction with a similar transaction plus a higher fee. The alternative to this is to have the customer wait until the original transaction is confirmed, which could take a long time.
Conclusion
As Bitcoin adoption continues to spread across the world, more and more vendors are beginning to understand the value of accepting bitcoin as payment for their goods and services. In order for ₿-Commerce to continue to grow and become an even more viable revenue stream for businesses, participation from consumers is critically important.
Open-source fliers, like Bitcoin for Local Business are providing bitcoiners with a means of starting a conversation with their favorite merchants about Bitcoin. But the story can't end there: once onboarded into the Bitcoin ecosystem, it's up to all of us to support these pioneering producers.
If you're ready to start participating in your local Bitcoin circular economy, you can download the River app. We make it easy to acquire bitcoin, and even easier to spend it on-chain or over the Lightning Network!
Build your Bitcoin wealth with River
No-fee recurring buys
Bitcoin mining
Phone support
---
---