Is Bitcoin Mining Legal?
Key Highlights
In most countries mining Bitcoin is legal, as Bitcoin itself is legal.
When Bitcoin mining is banned in a country, it is usually part of a wider ban on cryptocurrency. The number of regulatory developments is increasing globally.
Block rewards are critical to incentivizing miners in the early years, but as the block reward shrinks in size, miners will need to draw revenue from transaction fees.
It is possible in theory for a country to make Bitcoin mining illegal, but a ban is difficult to enforce in practice.
You may have heard about Bitcoin mining in relation to China, the United States or Europe. Some governments have banned it, some want to ban it, and others see making Bitcoin mining legal as an opportunity to earn tax revenue, balance their energy grids or stimulate investments in renewable energy. Let's look at how mining is perceived by governments around the world and what laws are being developed.
In most countries, it is legal to mine Bitcoin, as you can see in the map below.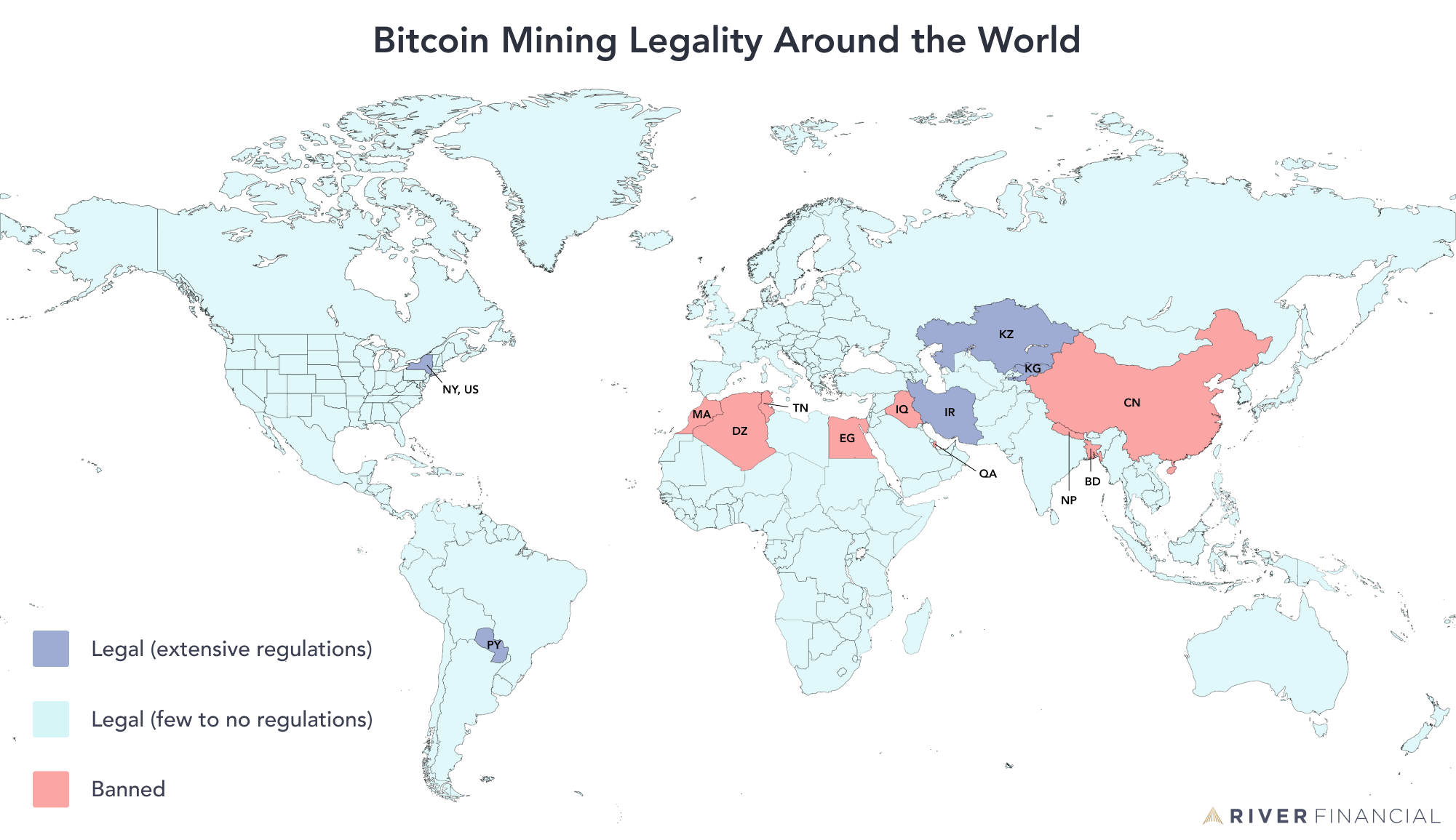 It's not surprising that mining is mostly legal, as Bitcoin's use itself is, too. As of June 2022, there are no countries in which mining is illegal, but Bitcoin itself is legal. Thus far the two are always paired.
➤ Learn more about Bitcoin mining.
Will Countries Ban Bitcoin Mining?
With a lot of news (and confusion) around the energy used to mine bitcoin, you might think more countries are looking to ban it. In practice, introducing a ban is difficult. Making mining illegal would mean that a government decides that people are not allowed to use their computer and energy for a specific computation known as a hash function.
Such a ban is not only difficult to enforce, it also sets a precedent to regulate what else people are not allowed to use their electricity or other sources of energy on.
To Ban or not to Ban Bitcoin Mining
Beyond Bitcoin being illegal in a country, there usually aren't many reasons why a country would want a specific ban on mining.
On a rare occasion, miners have tried to run illegal operations by stealing energy, but due to the electricity costs involved, they generally get caught by the authorities. This in itself isn't a particular reason to ban mining, and countries more often react to this by introducing regulations.
Miners are often scavengers for excess energy that otherwise goes to waste. This excess energy is cheap enough to ensure that miners can be competitive in the global market. As a result, miners rarely operate in places or ways that harm local populations and generally don't affect energy prices that households or businesses would pay.
Speeding up the Transition to Renewable Energy
Far from being a drain on energy resources, miners can help local communities more rapidly gain access to renewable energy. This is because miners can easily turn their operations on and off, which can help balance a grid during off-peak times. Miners can also set up anywhere, including in remote areas where renewable energy is abundant, but expensive to transmit into a population center.
To give an example: Investors may not want to build or operate a hydroelectric dam to generate power for a small number of villages in a remote area. Either the energy cost for these communities would be too high, or the venture would not be profitable for the investors. The investors can bridge this financial gap by selling their remaining capacity to miners, who can be flexible about where they locate their operations and only use the excess energy. There are very few other businesses able and willing to relocate to such remote locations, while using very specific amounts of energy.
It would be in a country's best interest to stimulate such investments and partnerships with miners, to accelerate the transition towards exclusively using renewable energy.
Reducing the Harm of Non-Renewable Energy
Another way in which Bitcoin mining can help to reduce CO2 emissions is by using flared gas as an energy source for mining. Flared gas is a byproduct of oil extraction. Converting this methane gas to CO2 reduces the total emissions by about 63%. A June 2022 report suggested that the Oman Investment Authority is participating in a company that specializes in mining powered by flared gas, which will open an office in Oman.
Enforcing a Ban on Bitcoin Mining
China was the first country to ban Bitcoin mining, which it did in June 2021. A year later, the Cambridge Centre for Alternative Finance estimates that it remains the second biggest mining hub in the world. The data suggests that these miners have access to off-grid electricity and have many geographically scattered small-scale operations to hide from authorities.
Completely banning small-scale operations is impractical. Beyond not being worth a government's time and money to track down a relatively small user of electricity, many mining operations are indistinguishable from data centers used for other computing projects. Banning all mining operations would require complete knowledge and 24/7 monitoring of all energy users, as well as recurring, time-intensive on-site visits to verify users.
As a result, Bitcoin mining can never truly be banned, even if every country in the world would manage to coordinate on it. Time and money spent to pursue such bans might be better invested in ensuring that renewable energy use continues to grow across all industries, not just Bitcoin mining.
Recent Bitcoin Mining Law Activity
Most countries don't have explicit laws that specify the legal status of Bitcoin mining; the majority only mention cryptocurrency in general. There are some examples where specific mining rules exist, or where attempts are being made to introduce them.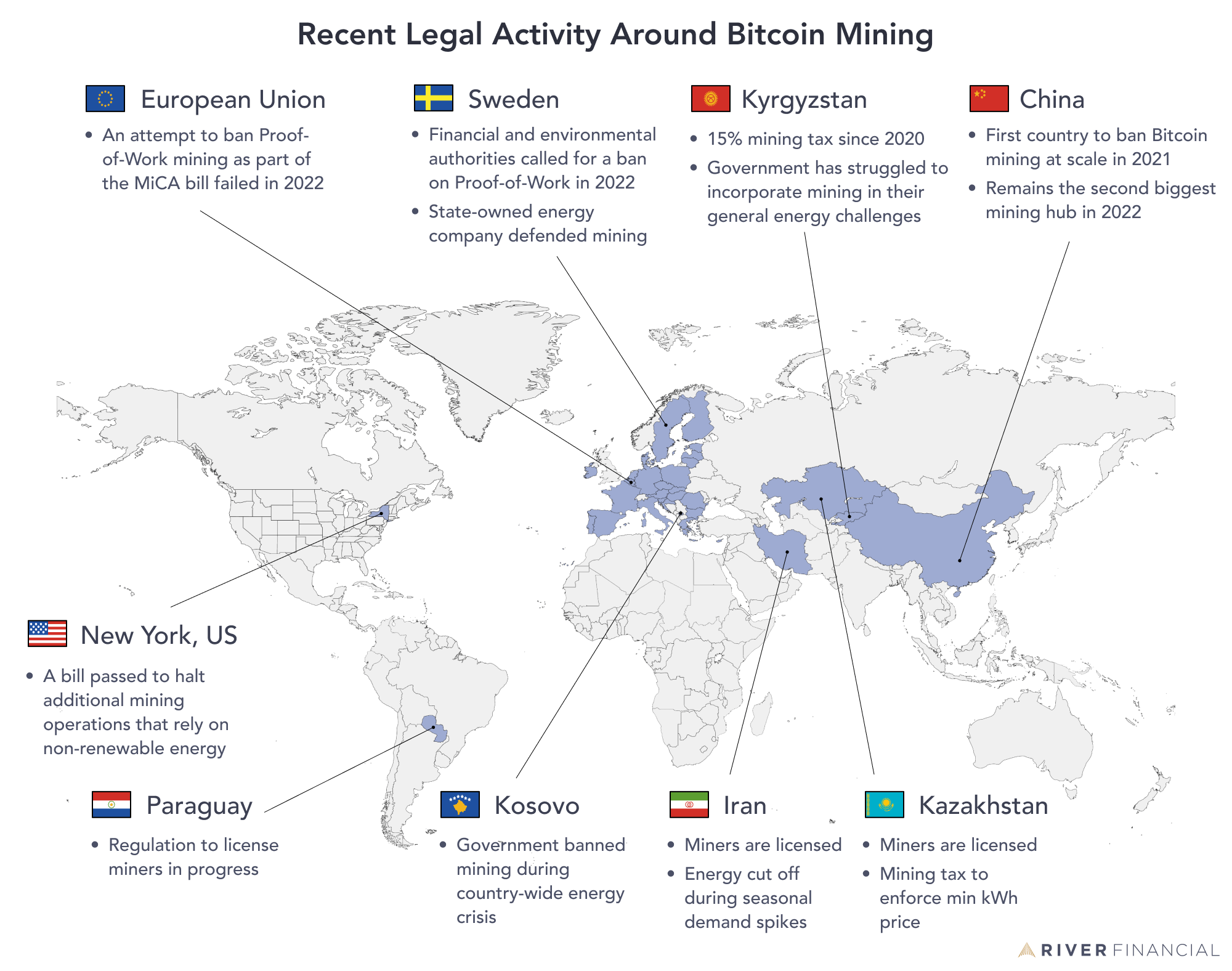 Iran
In 2019, the government officially recognized the mining industry and began to issue mining licenses. Miners were required to pay higher electricity rates and sell their mined bitcoin to Iran's central bank. The government has also used this licensing model to cut off mining operators from energy during seasonal spikes in energy demand and when supply plummeted because of droughts that limited hydro-electric power generation. These temporary mining bans occurred in May 2021 for four months, and again in June 2022.
Kyrgyzstan
In August 2020, Kyrgyzstan introduced a 15% tax on Bitcoin mining. The government is struggling to build clear relations with miners around the country, some of which are operating illegally. According to analysis by the Central Asian Bureau for Analytical Reporting, these problems are part of wider issues related to how the Ministry of Energy is managing the general energy crisis in the country. The Bureau's report contains several recommendations on how to improve the situation.
Sweden
In November 2021, Sweden's Financial Supervisory Authority and the Swedish Environmental Protection Agency called for a total ban on Proof-of-Work mining within the EU. Their concerns were based on false assumptions that Proof-of-Work mining was a drain on other energy resources. Sweden's state-owned power company, Vatenfall, stepped in to reject the proposal and correct the misunderstandings. The company's head of Physical Power Management clarified that miners can help to balance the load on electric grids when the power supply varies, and that banning mining could have the opposite effect of what the policymakers want.
In May 2022, Sweden's Central Bank began advocating for a ban of Bitcoin's consensus algorithm known as Proof-of-Work (PoW). This advocacy contains the same errors as the calls for a ban from November 2021.
Kosovo
In January 2022, the government banned cryptocurrency mining amid a country-wide energy crisis. Under normal market conditions, a ban is unnecessary, as energy crises increase the cost of using energy, making it impossible to profitably mine Bitcoin. For example, in other jurisdictions, miners are paid to halt mining during peak energy usage; miners may also make this decision themselves.
European Union
In March 2022, some people interpreted a proposed section of the Markets in Crypto Assets (MiCA) bill in the European Union as a direct attempt to ban mining. The author clarified that this was not the intention of the proposal and removed the section from the bill to avoid any further misunderstandings.
Later that month, a few pro-ban parties handed in an amendment to the bill, to try to push through an actual ban. This amendment was rejected by a 30-23 vote.
Paraguay
In May 2022, one house of the Paraguay legislature passed a bill to license miners, as Paraguay aspires to become a major Bitcoin mining hub. An amendment still needs to be approved where both corporate and individual miners would be required to apply for industrial electricity authorization before applying for a license. The bill has not yet passed the Paraguay Senate.
New York
The New York legislature signed a bill into law in November 2022 to halt the approval of new mining operations in the state that rely on non-renewable energy sources.
Kazakhstan
As of May 2022, the government required cryptocurrency miners to register their operations with the authorities. In July 2022, a new tax rate for mining was signed into law. The goal of this tax rate was to effectively raise the minimum price per kilowatt hour of electricity to 5 cents, with the gap made up by tax. At the time, this 5 cent rate was around the price that miners were globally able to pay for energy. The exception to this 5 cent rule is when renewable energy is used, produced by the mining operator. The tax in this case is 0.2 cents per kWh.
Bitcoin Miners Working With Local Authorities
Regulatory activity varies by jurisdiction, with some aimed at restricting mining and others trying to provide structure for the mining industry. Bitcoin miners who want to operate at an industrial scale will need to comply with their jurisdiction's regulatory scheme. Miners may benefit from building clear relations with their local authorities, and keeping a clear line of communication open to ensure mining doesn't hinder local communities.
In February 2022, miners worked with the Texas electrical grid operator ERCOT, powering down when needed during bitter cold temperatures when energy demand was exceptionally high.
A Long Road of Education Ahead
Policymakers around the world are considering whether and how to regulate Bitcoin mining. To make informed decisions on regulation, it helps to first to thoroughly understand why Bitcoin mining uses energy.
We expect a lot more activity in mining regulation over the coming decade. Beyond just creating rules, we hope to also see activity from policymakers to support the use of Bitcoin mining to reduce global emissions.
Disclaimer: This article is not legal advice on the legality of mining operations. Laws and regulations are constantly evolving, so make sure to consult with a professional before setting up a mining operation.
Build your Bitcoin wealth with River
No-fee recurring buys
Bitcoin mining
Phone support
---
---